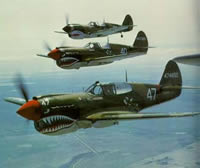 Mercury was founded in 1956 by three members of the legendary, World War II, First American Volunteer Group (AVG) Flying Tigers—Thomas C. Haywood, Robert P. "Duke" Hedman and Robert J. "Catfish" Raine.
The Flying Tigers continue to hold the top record for U.S. aerial combat victories. It is this tradition of teamwork, integrity and achieving strong results that drives our Chairman & CEO-- Joseph A. Czyzyk and our leadership team.
Mercury Aviation LLC and its divisions are lead by a seasoned team of aviation and business professionals with over 100 years of combined experience in the aviation industry.
Divisional leadership biographies may be found under the Mercury Aviation LLC Companies descriptions.