Chairman & Chief Executive Officer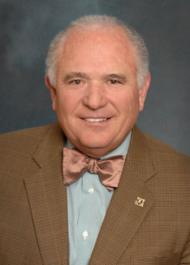 Los Angeles-based Mercury Aviation LLC was founded in 1956 by three members of the legendary, World War II, First American Volunteer Group (AVG) Flying Tigers—Thomas C. Haywood, Robert P. "Duke" Hedman and Robert J. "Catfish" Raine.
The Flying Tigers continue to hold the top record for U.S. aerial combat victories. It is this tradition of teamwork, integrity and achieving strong results that drives Mercury Aviation's Chairman & CEO-- Joseph A. Czyzyk. 
Mr. Czyzyk was born in Poland, the son of Holocaust survivors; he traveled Europe as a toddler and grew up in Canada.  His parents moved to the U.S. when he was 16 years old and he became a U.S. citizen.
Mr. Czyzyk has visited nearly 100 nations and has established business operations in more than 45 countries during his career, which started in the airline industry.   He joined Mercury in 1984 to establish the company's cargo division. As Chairman of the Board, he privatized the company in 2006, after nearly three decades on the American Stock Exchange.
From extensive travels to every part of the globe, but with a special emphasis on South America, Asia and the Middle East, Mr. Czyzyk has deep international relationships which have allowed Mercury to expand far beyond its Los Angeles headquarters.   
Civic activism is a cornerstone of his career.   Mr. Czyzyk served as the 2011 Board Chair of the Los Angeles Area Chamber of Commerce—the oldest and most prestigious business association in the Los Angeles region. 
He is a past president of the City of Los Angeles Board of Taxicab Commissioners, having served on the Commission since its inception in 1998 until his retirement in 2008. Mr. Czyzyk has the distinction of having served as a City Commissioner under the last three consecutive Mayors of Los Angeles. 
He also serves as Treasurer of the Homeland Security Advisory Council (HSAC) and has been appointed to the California's Governor's  Military Council.  Additionally, Mr. Czyzyk is a Board member of Pepperdine University where he also Chairs the Board of Visitors, Graduate School of Public Policy.
Mr. Czyzyk is a decorated U.S. Veteran, having volunteered for two tours of duty (1966-1969) with U.S. Navy Mobile Construction Battalion (Seabees), in the U.S. and the Republic of Vietnam. He is a proud Board Member of the CEC/Seabee Historical Foundation, helping to carry on the Seabees' "can do" tradition.  Mr. Czyzyk also serves as Chairman of the Board for U.S.Vets.
Mr. Czyzyk is a graduate of California State University at Los Angeles.  He and his wife, Faye, are Los Angeles residents and are the parents of four adult children and have two grandchildren.
Joe Czyzyk's  Career Highlights:
| | |
| --- | --- |
| 1985 to 1994 | President Mercury Air Cargo, Inc. and President of Mercury Service, Inc. |
| 1994 | Appointed to the Board of Directors of Mercury Air Group and named Chief Operating Officer |
| 1999 | Appointed President & Chief Executive Officer |
| 2004 | Appointed Chairman of the Board & Chief Executive Officer |
Updated: January 2017